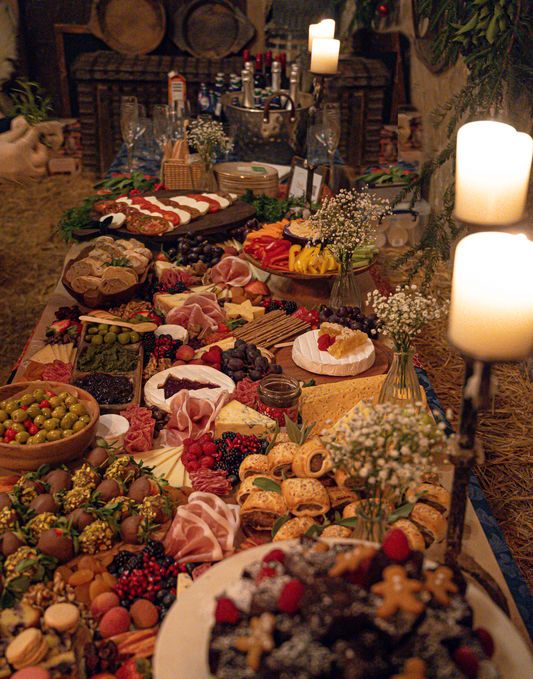 Events
We'd love to set up a graze table for you at your event. We'll come to you on your special day with everything we need to set up the table and style it up immaculately.
We offer two types of grazing – Flat-lays and Tablescape. Price starts at just £450. There is also a wide range of add-ons for you to choose from.

If you'd like to discuss your options, please leave us a quick message below and we'll get in touch with you to plan a perfect grazing table at your event!
Flat-lays

A presentation where a selection of food items are arranged in a flat, artistic way on a surface that is at least 4 ft wide.


Set-up time:
60 – 90 mins depending on party size.

Tablescape

A more stylised presentation with different types of props like wooden boards, cake stands, marble stands, flower vase, cheese knifes, tongs, depending on the theme or aesthetic of the event.

Set-up time:
90 – 120 mins depending on party size.
Decorative elements:
For an additional cost, we can also include flowers, candles, and other decorative elements can add a touch of elegance and ambiance to a tablescape.

Please note: We require you to facilitate a table or kitchen top for us to set up the grazing display.
Set up is included in the price and takes between 60 to 120 mins.
–––––
Contents may vary as per the availability and seasonality of products.
We charge 75p per mile both ways as a travel fee.
Hosting an event? Drop us a line.